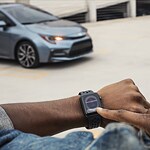 The Toyota Corolla has been reinvented for the new year, so what can we expect from the new vehicle? While the previous Corolla model definitely delivered in a number of ways, there's no reason not to get excited about what could possibly be coming out. So, let's discuss what we know so far.
The Corolla will definitely feature upgraded technology for both the vehicle's interior and exterior. Driver assistance features have gotten improved, and now come with pedestrian detection, blind-spot monitoring, and over ten airbags. We're always glad to see when manufacturers decide to up the safety of their vehicles, as you can never feel too secure on the road.
You can also never have too much fun in the right car, which is probably why the Corolla has an updated infotainment system that can connect to your smart phone. No, it doesn't matter if you have an Apple or Android - the Corolla connects to both.