The New Toyota Camry - Not Your Grandmother's Old Sedan
The Toyota Camry sedan has been around for many decades, a go-to choice for quality ride, high-tech features, and cavernous trunk space here in the Grants Pass area for a long time. At Klamath Falls Toyota, we've proudly carried the Camry for our customers over the years, and we're happy to say that this steadfast and true model isn't staying in one place, it's only getting better with age.
In fact, the latest generation of the Toyota Camry is a remarkably modern family car, complete with a slew of advanced safety features that come standard on every single model. If the striking exterior, which has been completely revamped and remodeled over previous Camry generations, doesn't catch your eye, this standard suite of safety features will. A sample of what you get with this new car includes:
10 standard airbags placed throughout the vehicle
Traffic-adapting cruise control
Automatic emergency braking
Rearview camera
Lane departure warning
Automatically-dimming LED headlights
For our customers in the greater Medford and Altamont who are also interested in entertainment and convenience features, the Camry is loaded with those as well. Be on the lookout for an available touchscreen infotainment interface, keyless entry, and wireless smartphone charging, among others.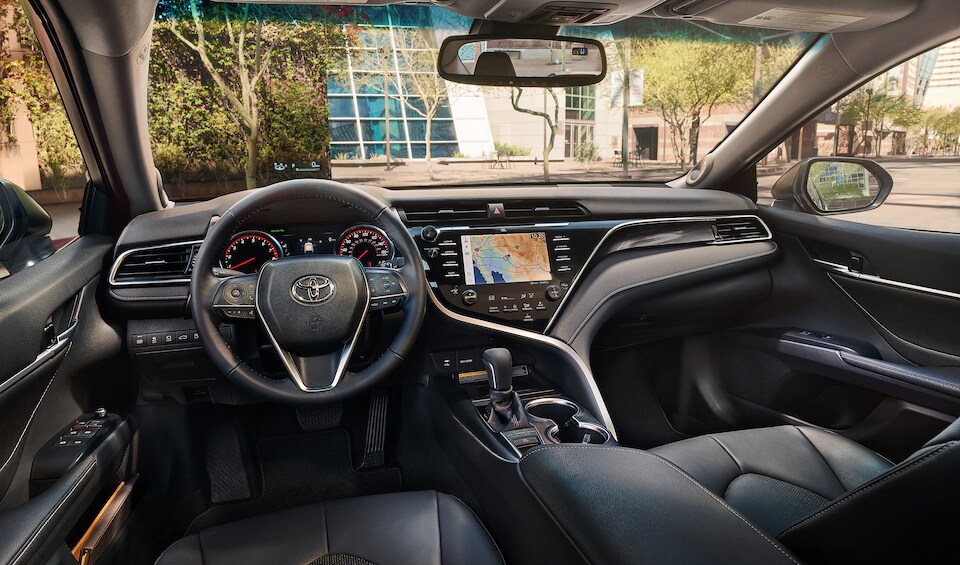 Meet and Finance Your Next New Camry in Klamath Falls
Ready to meet the latest version of the Toyota Camry in person, and take one for a test drive of your own? Stop by and visit us in person, on Washburn Way, and let us set up your introduction. Our sales team can help you choose the perfect Camry for you, and then our finance center can help you budget for it. You can even apply for financing online, before you even leave the house, and see if you qualify for any of our incentives and special offers, all from our website. At Klamath Falls Toyota, we look forward to helping you shop, and finance, for the brand-new Toyota Camry of your dreams.