Toyota Battery Service in Klamath Falls, OR
You're late for an important meeting. You hurry out of the house and get in your car only to hear the dreaded sound when trying to start it. Nothing. It just sits there. You blink. How can this be happening? The battery in your car is dead.
What can you do to avoid a dead car battery? How long do car batteries last? What can you do to extend the life of your battery? And what do you do when it needs replacement? Klamath Falls Toyota has the answers.
What is Your Car Battery Lifespan?
The first thing you should know is that weather has a big impact on how long your car battery will last. The hotter it is where you live, the shorter the lifespan of your battery. A typical car battery can last anywhere from three to six years before you have to replace it, depending on where you live.
A conventional gasoline-powered vehicle gets pretty toasty under the hood; add sizzling summer temperatures to that and you have a battery that's will to live is sapped by high heat. That's because heat affects batteries, and hot weather will drain your car battery - leading to a chance the car won't start. Why? Batteries contain liquid - and that fluid can evaporate when it is hot.
Is It Time To Replace The Battery In Your Toyota?
If the answer to any of the questions below is YES, it may be time to replace your car battery:
Is your battery more than three years old?
Has your battery outlived its warranty period?
Have any warning lights come on?
Has your vehicle been jump-started lately?
Have you had to use a portable charger to recharge your battery lately?
Do the lights dim when the A/C or heat is on?
Has your vehicle had alternator or belt problems recently?
Is there visible corrosion on the battery posts or cables?
If your vehicle is hard to start and/or has dim headlights when the engine is turned off, your battery is getting weak and should be replaced with a new Toyota TrueStart battery.
Manufactured to Toyota's exacting standards for quality and performance, these batteries offer the right combination of cold cranking amps (CCA) and reserve capacity (RC) for reliable performance regardless of climate.
Schedule your appointment at Klamath Falls Toyota if you need to have your battery serviced or replaced.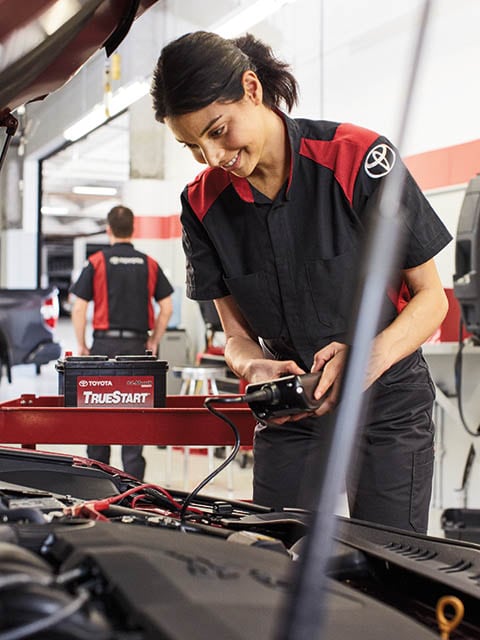 Tips For Helping Your Car Battery Last Longer
Your driving habits have a lot to do with how much charge your battery holds. If you only drive your car for short distances or for a few minutes at a time, the battery doesn't have time to recharge from starting the car. A lot of us take a lot of short trips to the grocery store or to shop, and eventually, these short trips wear the battery down.
One of the best things you can do to extend your battery life is to drive your car frequently for trips that are at least 30 minutes long. This will help ensure your battery has a full charge and will be ready to go when you need it. If you don't use your car very often, consider getting a car battery trickle charger, or "battery tender." It will keep your battery topped off even when it is just sitting in the garage.
The average lead-acid auto battery can hold a charge for a long time - but they all discharge over time. That means they lose some of the charge by simply sitting unused. They are also drained by components in the car, such as the alarm system and onboard computers even when not being driven. So, if your car is going to be sitting around for more than a couple of weeks without being driven, use a trickle charger such as mentioned above to keep it fully charged and ready to go.
If you are sitting idling with the car running for an extended period, the battery is hardly being charged - and accessories such as the radio or air conditioning will wear it down. Turning off accessories while you are sitting idling, or if the car is not running, will lighten the load and save your battery.
A lot of people think that cold weather kills batteries. Not true. Sure, car batteries work hard to start a cold car motor, but the real battery killer is excessive heat! Summer temperatures can cause water in the battery cells to evaporate causing a chemical reaction that depletes cranking power. Whenever possible, park in the shade, or in the garage, to keep your car as cool as possible.
Install A Genuine Toyota Battery
Toyota TrueStart batteries have been approved by Toyota engineers for years of trouble-free service-and no one knows your Toyota better than they do. Schedule your appointment at Klamath Falls Toyota to have your battery serviced or replaced. We will also properly dispose of your old battery to conserve our environment!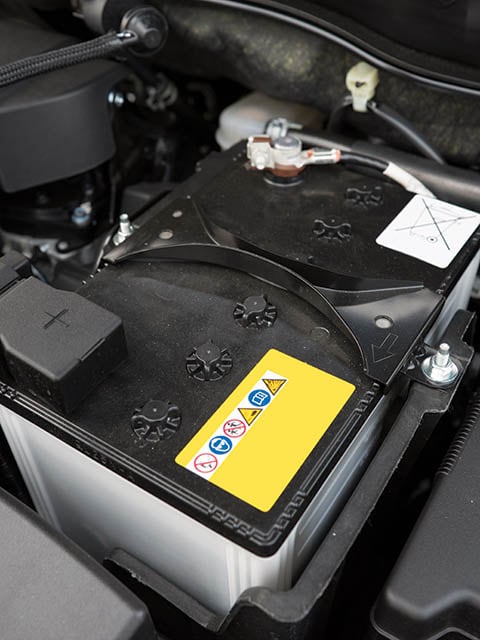 Need Battery Service or Replacement?
Schedule your appointment with our Toyota Service Center today!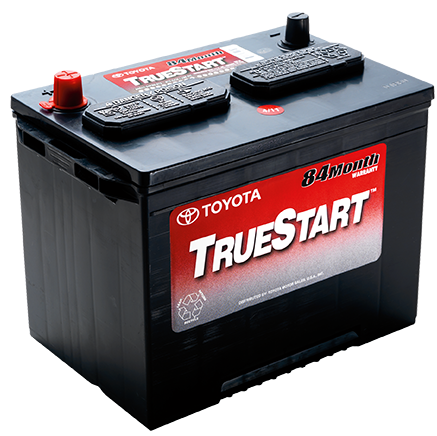 We're sorry, we do not currently have any specials published. Please check back soon or contact us for more information.